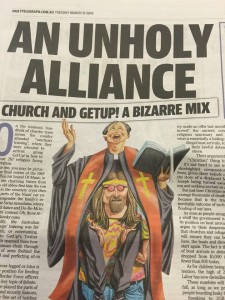 The once godly and great Methodist Church in Australia has now largely become a pro-Left-wing organisation. The Roman Catholic institution is also bitterly divided between the Leftists in its midst. What's dangerous about these Leftists is that they are like a fifth column, undermining patriotism and the Australian way. They are certainly anti- everything we believe and stand for. Name any issue, and they will take a polar opposite position to ours.
One especially dangerous trend that has been occurring is the so-called "Refugee Advocacy" movement. This is basically a Left-wing operation within our own nation to bring in as many unwanted illegal immigrants as possible. These people are constantly operating against our security services and other such authorities in trying to circumvent every lawful and proper measure in order to flood Australia with undesirable people.
The Left have hijacked words like "justice" and "compassion" to mean their anti-Biblical worldview. Apparently it is good, in their view, not only to destroy the Australian culture and way of life, but also to uphold a different, communistic-inspired program. As a Christian, I pray for these multitudes of Left-wing enemies, that they would repent of their evil ways. However, as the Bible also shows, divine judgment does come upon them. We should also support the idea of the Government's authority to stop the Left's encroachment. This means we should pray for good Government too, as the Scripture says,
I EXHORT therefore, that, first of all, supplications, prayers, intercessions, and giving of thanks, be made for all men;
2 For kings, and for all that are in authority; that we may lead a quiet and peaceable life in all godliness and honesty.
3 For this is good and acceptable in the sight of God our Saviour;
4 Who will have all men to be saved, and to come unto the knowledge of the truth.
(1 Timothy 2:1-4).