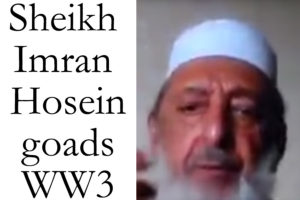 Sheikh Imran Hosein, a leading Islamic eschatologist and bosom friend of Russian anagogical ideologue, Alexander Dugin, has "predicted" (like his Russian friend) that World War Three is coming. Hosein has instructed his followers to abandon money, but to return to gold and silver and to sell up and move to the country and begin to live off the land so as to survive the coming war. He teaches the Islamic view of the end times, including the Islamic view of a coming false pro-Jewish leader and the Mahdi (the great Muslim saviour). Hosein also advocates an alliance with Russia and the Eastern Orthodox religion.
Some Christians have bought into this view, claiming that the Islamic saviour is indeed coming, whom they are calling "antichrist". They have tried to match the Muslim ideology into interpreting the End Times in the Bible. Accordingly, the dragon of Revelation might be viewed as representing Islamic nations. They are also trying to say that the coming antichrist is the same as what the Muslims are calling the Mahdi.
Those Christians are only half right. The proper way to understand Bible prophecy is to disregard any Islamic teachings altogether. When we begin from the Protestant tradition, we find that there is a view that there is a WESTERN and an EASTERN antichrist. This is explained in detail in the book, "Multiple Fulfilments of Bible Prophecy", bibleprotector.com/prophecy
The Eastern Antichrist is spoken about in Daniel 8 and Daniel 11. This is not the same as the Western Antichrist of the end times.
The Eastern Antichrist has three stages:
1. Antiochus Epiphanes, the Hellenistic Syrian ruler who persecuted the Jews.
2. Mohammad and the history of Islam to 1967.
3. The coming leader of Russia, Gog.
We are rapidly approaching the third stage.
The facts today showing how the third and final Eastern antichrist of history is ready:
1. Russia is involved with Syria today, an Islamic nation.
2. Russia and Islam are connected, such as Russia's backing of the Syrian dictatorship, the Iranian dictatorship, etc.
3. Russia's leading spiritual leader, Alexander Dugin, is directly connected with Sheikh Imran Hosein, who are talking about eschatology and Gog and Magog.
The final events of the Eastern Antichrist are described in Ezekiel 38 and 39.
"And many false prophets shall rise, and shall deceive many." (Matthew 24:11).
Of course, world war does come when the very same false prophets push it. But the Bible shows God ends their war, "And behold at eveningtide trouble; and before the morning he is not. This is the portion of them that spoil us, and the lot of them that rob us." (Isaiah 17:14).